Virden U12s win softball gold
Virden U12 baseball girls practiced hard and played hard to come up with this big win.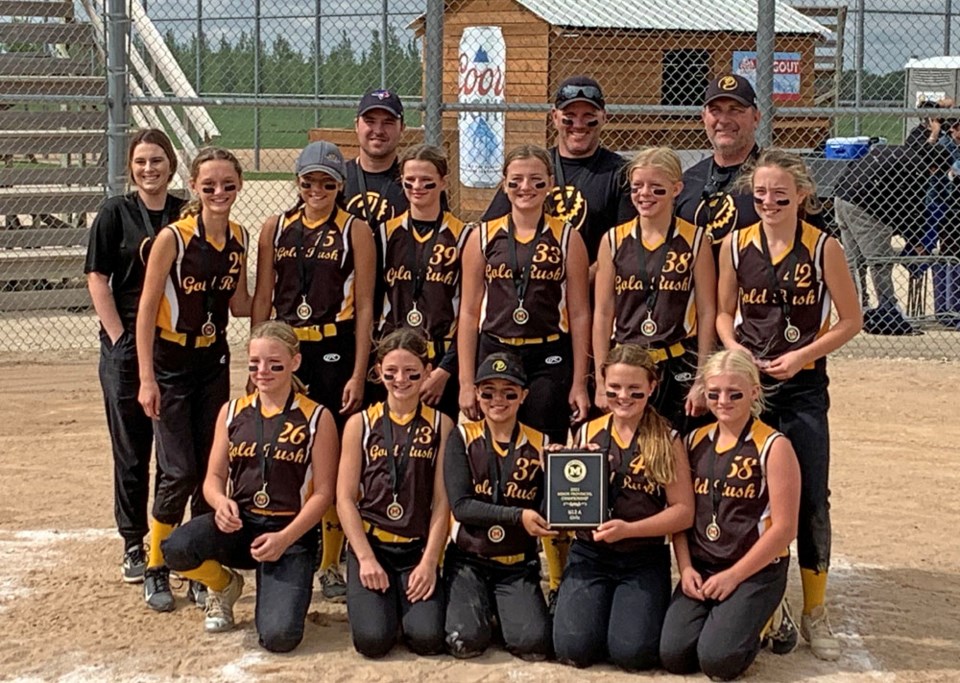 Displaying an explosive offence, pitching prowess, and strong defence, the Virden U12 girls softball team won the 'A' provincial championship last week. The squad beat the Brandon Heat, 16-3, in the gold medal contest at Winnipeg's Buhler Recreation Park. In six games at the event, the fewest runs Virden scored in an outing was 11. "We had a strong, committed team that had played quite a bit of ball leading up to the provincials," coach Cory Barkley said. "Also, several of the girls had played for medals at previous championships so they knew what to expect going in." The victory wrapped up a strong stretch for the team. Including the six consecutive victories at the provincials, the squad won its last 13 contests. "We had a great few weeks playing exhibition games in the area and the girls practiced hard and played harder," Barkley said. Six of the team's players had lost a couple of provincial medal games in the past. Barkley said: "We were very happy for that group in particular to break through and win like they did. With COVID shutting our season down in May, there was no guarantee of a season, so we are very happy and fortunate to have got a season in and for the girls to gain this experience together." In the provincial gold medal game, the Virden team faced pressure early on. Brandon loaded the bases in the first inning. Pitcher Callie Stuart and the defence were able to limit the damage to just two runs. With the strong hitting displayed all tournament long, Virden scored six runs in the bottom of the first to take a 6-2 lead. On the mound, Stuart and McKenzie Masson combined to limit the Heat to just one more run. The runs kept coming for Virden, including a home run from Kaiya Walton and a Stuart grand slam. The offensive onslaught put the mercy rule into effect after three innings. "All the team hit very well and, with pitching support from Joelle Barkley throughout the weekend, our pitching staff and defence was also very good," Barkley said. In its opening game of provincials, Virden trailed Wawanesa by two runs going into its final at-bat. The team scored three runs to win the game 13-12. Barkley said that "got us off on the right foot." The squad then beat MacDonald Lasalle, 14-1; Phoenix Flames, 20-7; Northeast Storm, 16-3; and the Steinbach Storm, 11-2 en route to the finals.