The Virden Oil Capitals are pleased to announce that Branden Crowe has accepted the job as the team's Marketing Manager for the upcoming season.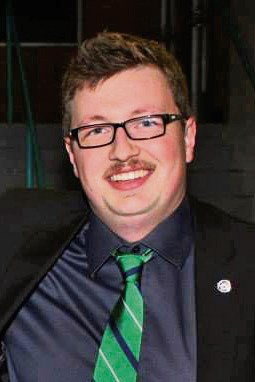 Crowe has worked the past two seasons with the Melfort Mustangs in the Saskatchewan Junior Hockey League, playing a key role in the team's front office as their Marketing Manager. The Mustangs captured the SJHL's Canalta Cup Championship last year before earning their spot in the Royal Bank Cup in Portage. During his time in Melfort, Crowe helped set club franchise attendance records along with guiding the team to profitable seasons in each of his two years in the Marketing Manager position.
"We are excited that we were able to land such a qualified applicant such as Branden," stated Dale Lewis, the Oil Caps' President. "His resume is very impressive and we believe he will be able to hit the ground running with our hockey club." Lewis continued, "Whether it's a player or a member of your front office staff, any time you can add someone to your organization with championship experience i s also a plus. He was a big part of what went on in Melfort last season and we look forward to what he will bring to us here in Virden."
Crowe had similar feelings to add when talking about being part of a championship experience. "Being a part of the Melfort community and celebrating a championship there was a very special and rewarding feeling. I would love to be a part of something like that again here in Virden for these fans and being closer to my home as well."
Home for Crowe started in Neepawa before moving to Boissevain just prior to high school. In 2011, he graduated with his Communications Diploma from Assiniboine Community College in Brandon before relocating to Saskatchewan in 2012. He's remained familiar with the Westman region, the Manitoba Junior Hockey League, along with the progression of the Oil Caps during their first three seasons. "The Oil Caps have a reputation as one of the premier Junior A markets in Canada. Through hardwork and commitment to the community, I plan to continue to build on that," mentioned Crowe. "I couldn't be happier to be retuning to Manitoba and working with the Oil Caps."
Aside from being the team's Marketing Manager, Crowe also served as the Mustang's play-by-play radio voice for the past four seasons for Fabmar Communications Ltd. on CK750 AM in Melfort - a position that Virden is also in need of since their radio voice, Ray Walker, decided to step away from the microphone at the end of last season.
"After going through the interview process and finding out that Branden had a background in radio as well, we knew he was a perfect fit for our hockey club," Lewis added about the team's newest member.
Crowe admits that he's excited about the Marketing Manager role, and his opportunity to work closer to home. "I'm not sure how it will all work yet, but if there is an opportunity to continue doing radio then that is great experience for me. I really enjoy that part and the interaction with the players and fans."
Things will progress quickly from here. Crowe is expected to gain a few days of cross-over time with departing Marketing Manager, Lindsey Gullett, beginning the week of July 13. From July 16 on, Crowe will have the reigns on the Oil Caps marketing position.
The Oil Caps will continue to focus on selling season tickets in the next few months leading up to the regular season along with finalizing all marketing partnerships prior to the team's home-opener on September 25.