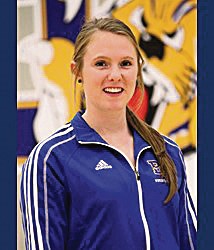 Virden's Logan Biccum had a hard time choosing the best part of her first year with the Brandon University women's basketball team.
The daughter of Denise and Scott Biccum redshirted last winter for the Bobcats. She practiced with the team but did not play in games. This allowed her to adjust to university sports and life while maintaining a full five years of Canadian Interuniversity Sport eligibility.
"It is hard to pick a best part as everything was so new and exciting," Biccum wrote about her first season in an email interview. "I really enjoyed the intensity of the practices and getting to know my new teammates and coach as everyone has such a fun and different personality."
Brandon University head coach Novell Thomas was pleased to have Biccum and her former Virden Collegiate Institute teammate Natalie Vachon of Oak Lake be part of the team this past season as redshirts. The head coach praised the duo as being good shooters who can drive the ball to the hoop.
"What impresses me the most about Natalie and Logan is their work ethic," Thomas wrote in an email interview. "It's not easy to play at the CIS level. They realize this and are putting in the time in order to become consistent contributors."
Biccum believes last winter will benefit her in many ways.
"My redshirt season will help me as I have had a whole season to develop my skills and confidence at this level along with understanding how our team works before going into a game situation," she wrote. "I have also had a chance to adapt to the busy schedule of being a student-athlete at university."
With interests in physiotherapy and personal training, Biccum is majoring in physical education. While transitioning to university studies, she also made adjustments on the court.
"University basketball is a faster pace and practices are much more intense compared to high school. Your decisions with what you do with and without the ball have to be a lot quicker compared to high school ball."
At VCI, the 5-foot-8 Biccum was an impact player. The guard helped the VCI Golden Bears win the AAA Manitoba Provincial Championship. Biccum was named the player of the game for the provincial semifinals. She was a provincial tournament all-star and was selected as a MHSAA Tri-Star Athlete of the Week in January.
Biccum praised her VCI coaches, Steve Densmore and Kerry Sawyer, for the impact they had on her career.
"They shared their knowledge of the game with me, and gave up a lot of their time to take our team to tournaments weekend after weekend throughout the high school basketball seasons," she wrote. "They expected nothing less but the best of us every game, which led us to winning AAA provincials in my Grade 12 year. Steve would always allow me to take advantage of the open gym times to get extra practice in."
Biccum also appreciates the backing of her parents.
"Without my family's support I wouldn't have made it to this level in my basketball career. My parents drove me to countless camps, tournaments and games which continually improved me throughout my high school years. It was a rare occasion that they missed a game and I look forward to having them in the stands going into my first year of eligibility with the Bobcats."
Biccum is excited for next season when she gets to pull on a BU uniform.
"(I'm) looking forward to the upcoming Bobcat season as Coach Novell has done a great job developing our young team and everyone has had more experience."