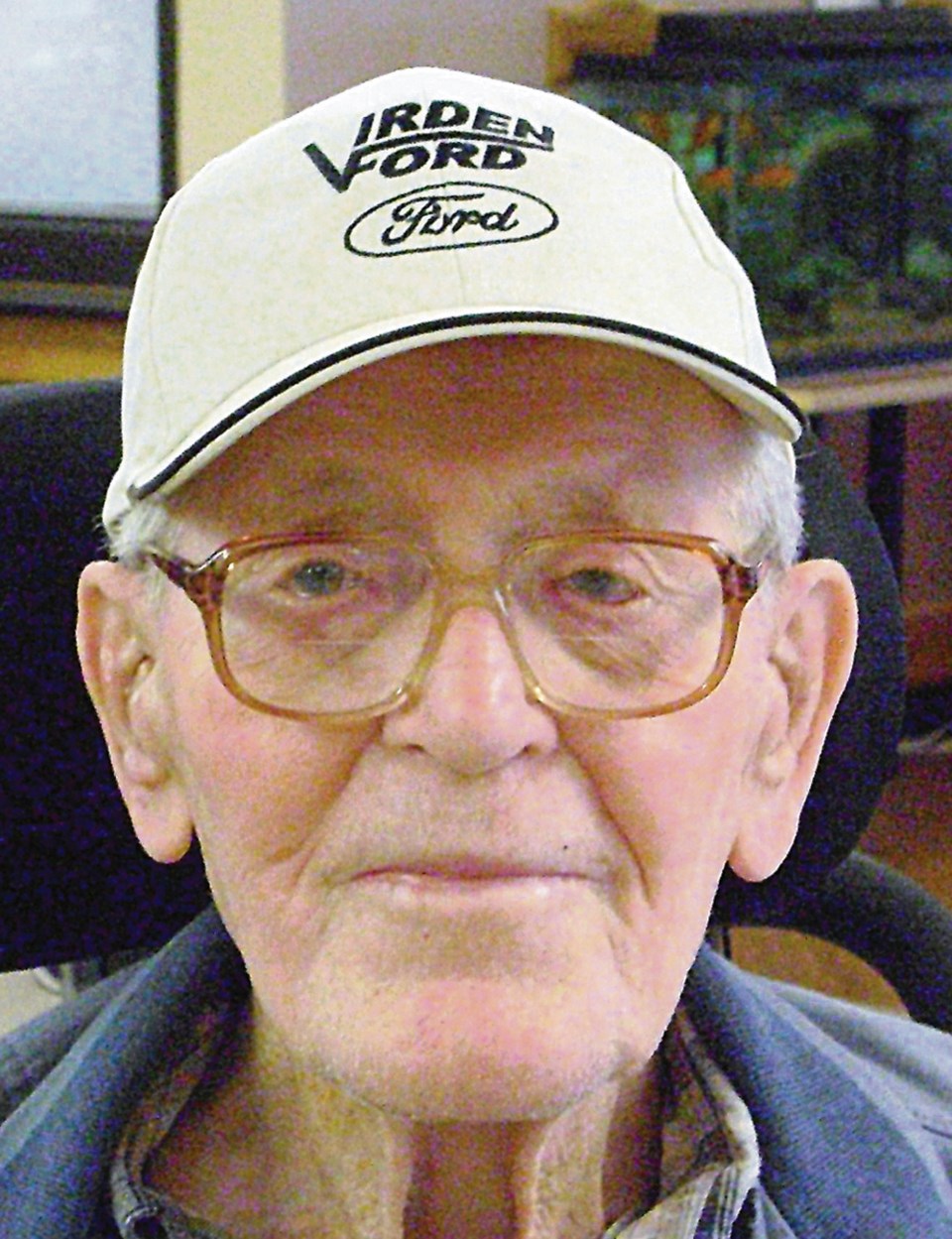 It is with great sadness that the family of John Alexander Cruickshank announces his passing on February 8, 2015. John passed away peacefully at Country Terrace Nursing Home in London, Ontario in his 99th year. Cremation followed.
Born to Charles and Helen Cruickshank in the Sanderson District north of Cromer, John was the eldest and last survivor of his four brothers and sisters - Ina (Nolan), Ella (Garlic), Tom, and Allen. John attended Sanderson School and continued to work on the family farm until 1941, when he moved to Bissett, MB to work at San Antonio Gold Mines. In August 1941, he married Alice Patricia Nelson of Virden. He joined the army in 1942 and was posted to the Shilo base, where he rose to the level of sergeant and helped train new recruits. It was during his time in the army that John and Pat's daughter, Myrla (Smederovac), was born.
Following his discharge in 1945, John worked for a brief time in a hardware and butcher shop in Woodnorth. Shortly afterwards, John and Pat bought the general store and post office in Butler, along with a quarter section of land east of the village. Their son Garry was born a couple years after their move. John was always very involved in the life of this small community, and many will remember the countless hours he spent each winter teaching local school children how to curl. In 1961, Pat passed away unexpectedly. John and Garry continued to make their home in Butler.
In 1964, John married Greta Palmer (Dryden) and relocated to Virden. John and Greta enjoyed a long life together. They spent their summers tending to their farm and yard and many winters involved in the curling club. In addition to curling several games a week, John worked as an icemaker and manager at the club for several years. Greta passed away in 1997.
In 2002, John married Ruth McDole of Virden. Ruth continues to reside in Oakville, ON.
With his passing, John's family celebrates his life, his quiet strength and generosity, and the memories he has given us. He is fondly remembered by his grandchildren, who learned to shoot, play the harmonica, and master cribbage, Euchre, and crokinole at his side. The following short verse seems so fitting:
He'll always be remembered
As a man, both strong and good,
Who gave his best for others
And who did the best he could.
He'll always be remembered
For all the joy he brought.
As a man who made a difference
And a man who meant a lot.
An interment service for John will be held at the Virden Cemetery on Monday, August 17, 2015 at 11:00 a.m. All who wish to pay their respects are welcome. A light lunch will follow at St. Paul's United Church.