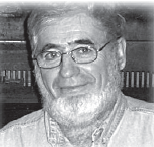 David 'Moses' Muller, age 73, passed away on Tuesday, May 26 at the Dauphin Regional Health Centre after an extended tenacious nine-year battle with CLL (Chronic Lymphocytic Leukaemia), and most recently, a harsh stroke.

David was born in Elkhorn, Manitoba to Ambrose and Nellie (Barclay) Muller, on April 15, 1942. He is survived by four brothers: William (Evelyn) of Elkhorn, Alex (Lyn) of Burleson, TX, John (Bernice) of Winnipeg, and Charles (Bonnie) of Brandon; three sisters: Marian (Robert) Lees, Margaret (John) Dyck of Estevan, SK and Doris (Jack) Borreson of Redvers, SK. Their family lived together on
the family farm in Archie Municipality where he attended Jeffrey School and worshipped with The Church of Christ.

He gave his life to Jesus when he was fifteen. He was passionate about a rural way of life, and was determined to live on a farm as long as possible. In his teens and early twenties, he worked for several farmers; threshing or harvesting, doing chores, and learning the farming styles of others. In 1958 he attended Grade 9 at Western Christian College in Weyburn, SK. When he decided more schooling was not for him, he came back to home farm, always on the lookout, hoping to find a farm he could purchase.

In 1970 David met Marilyn Brazle of Weyburn, and married her January 7, 1972. They shared four children: Sara Nell (Tim) Pippus, Estevan, SK; Rachael Muller (Christian Boudreau) Gatineau, PQ; Joel Muller, Arcola, SK; and Josh (Jeanine) Muller, Kent, OH. He had great love for his five grandchildren: Katelyn and Megan Pippus, Jonah and Judson Muller and Alexi Boudreau. His most powerful desire is to see all his children and grandchildren in Heaven one day. He was predeceased by his parents, but is also survived by an extended family of in-laws, nieces
and nephews.

He and Marilyn farmed for 18 years in the Manson area, relishing raising their children in a farm setting, before leaving fi nally in 1990 to live in Dauphin where Marilyn accepted employment with Western Christian College. Leaving the farm life was extremely hard emotionally. It was made palatable only by his years of employment with Fisher Seeds, a business which brought him into continued contacts with the farming community.

David was a shy and gentle but curious-about-life fellow who took great pleasure in little things: the Creator's nature - birds, fl owers, and sunsets – for example, and was happiest making something out of nothing…which he did so well. He was constantly looking to improve what he found. He was, for several years, an elder in the church family that meets at Parkland Crossing, always a listener and encourager… and overwhelmingly humbled that his hope of Heaven is because of a Saviour who loves him.

Donations in memory of David can be made to Parkland Crossing, Box 70, Dauphin, MB R7N 2T9, or the Dauphin & District Community Food Bank, Box 1003, Dauphin, MB R7N 3L9.